Greetings from the Mayor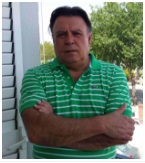 Greeting and gratitude are the two first words that come to my mind to address you, curious neighbor or citizen who wants to know about our beautiful village.
Through this website and some other information you can seek on the Internet, you will see that Olvera is a gorgeous village at heights settled strategically in the Route of the White Villages of Cádiz, like hardly one hour from big cities of Andalucía like Cádiz, Sevilla, Córdoba or Granada.
Olvera is a synonym for hospitality and services and it offers all the advantages expected from a village: relief, delicious and a varied gastronomy, cleanliness, natural routes like the route Vías Verdes (literally, "green-ways"), an ensemble Historic-Artistic, a city full of monuments, good restaurants, lodging… etc.
We are also a referent in industry with our cooperatives and little and medium companies and if you stay some days between us, you won't regret nor you will forget it.
Moreover, this website tries to be a vehicle of contact and information between the citizens, not only to carry out administrative procedures but also to receive your impressions, suggestions or complaints that surely will make us to improve day-to-day.
I am leaving now, as I started, with a sincere greeting for everyone who leans out of this open window that is Olvera.
Francisco Párraga Rodríguez. The Mayor.